The China Belgium Technology Center Offers 1200 Surgical Masks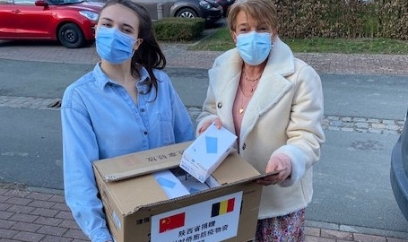 April 2021- The CBTC is delighted to participate in this way in the solidarity action of the LSM Student Office, a faculty with which the CBTC maintains excellent relations and also regularly welcomes its students on internships.
In these times of pandemic, solidarity is paramount.
This is why the LSM Student Office has decided to create a boxing set composed of various elements such as recipes, a sports program, drinks, food, coupons, goodies that will be distributed to the students, who are forced to stay at home to attend their classes. Thanks to the CBTC, the students will receive masks in their boxes.On behalf of the students of the Louvain School of Management (LSM) – UCL, Laura Halleux, President of the Student Office, extends a heartfelt thank you to the CBTC.